Neocons and globalists regrouping to battle Russia and Trump
By Wayne Madsen – Madsen Reports
The parasitic nature of neo-conservatives and their globalist kin has prompted them to regroup to fight against both Russia and the incoming Russia-friendly and anti-globalist administration of Donald Trump. With the departure of arch-neocons Victoria Nuland from her perch in the State Department, Samantha Power from the U.S. mission to the United Nations, and Susan Rice from the National Security Council, the neocon and globalist establishments, which have in common their Atlanticist views, have settled on Canada as the ideal place from which to wage their wars of subterfuge and propaganda.
Canadian Prime Minister Justin Trudeau fired his foreign minister Stephane Dion to make way for a virtual replacement for Nuland, Power, and Rice on the world stage: Chrystia Freeland, his trade minister. Dion's policy of seeking to engage with Russia is what ultimately cost him his job as Ottawa prepares to host every anti-Trump instability operation it can manage to draw to the Canadian capital.
Freeland became a darling of the globalists after she hammered out a free trade agreement with the European Union last year. Freeland leaned heavily on the one holdout to the deal, the regional government of Wallonia in Belgium. After the threats from the French-speaking Walloons were neutered, Freeland reveled in the signing of the Canada-European Union Comprehensive Economic and Trade Agreement. Freeland also oversaw the signing of the Canada-Ukraine Free Trade Agreement with the neo-fascist govenrment in Kiev.
With the appointment of Freeland as foreign minister and Somali-born Ahmed Hussen as Immigration Minister, Trudeau has drawn a red line against both President Trump and Russian President Vladimir Putin on issues of globalization and open immigration. Ottawa will soon become a nest for anti-Trump operations that will almost certainly involve the billionaire global troublemaker George Soros.
Like Power, Freeland is a former journalist who traded in her journalistic credentials to become a shill for globalization's new world order. A Rhodes scholar, graduate of Harvard, and alum of the Brookings Institution, she represented the Financial Times in Washington, New York, and Moscow.
Freeland is also of Ukrainian descent and her anti-Russian stance, including her support for sanctions against Russia over Ukraine and Crimea, earned her a visa ban by Russia. Having reported from Moscow for the FT from the mid-1990s to late 2000, Freeland became a major critic of Putin and later accused him of creating a dictatorship in Russia. Freeland's bias against Russia was present in her reporting, especially on Chechnya, long before the Ukrainian civil war and the retrocession of Crimea to Russia. In one of her first statements as foreign minister, Freeland vowed that Canadian sanctions will not be lifted against Russia. Freeland also indicated in a speech last week in Ottawa that Canada will serve as a front against rising global "trade protectionism and xenophobia." In December 2016, Canada hosted a meeting of the United Nations High Commission on Refugees and Soros's Open Society Foundations that seeks to expand the movement of refugees from the Middle East, North Africa, and South Asia to the industrialized nations of the West. There is little doubt that Russophobes Freeland and Soros are cooperating on several fronts against Russia, Trump, and anti-Soros leaders like Hungarian Prime Minister Viktor Orban and French National Front presidential candidate Marine Le Pen.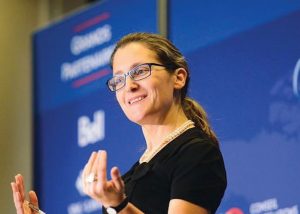 Anti-globalists and anti-neocons have a new "Nuland" to contend with: Freeland.
From Ottawa, Freeland will lead the neocon and globalist charge against any attempt by Trump to tear up the North American Free Trade Agreement (NAFTA). She will almost certainly try to salvage the Trans-Pacific Partnership (TPP), which includes Canada and which Trump has vowed to scrap. Freeland will also likely open up Canada's Arctic to a military presence by anti-Russian NATO countries like Norway, Denmark, and Germany, as well as pro-NATO Sweden and Finland. An increased NATO presence, without U.S. forces, in the Canadian Arctic will not only militarize the region but send a warning to Russia about Canadian control over emerging Arctic sea lanes that are increasingly navigable due to
Trudeau has signaled the world that opposition to the Trump administration on everything from Russia and NATO to free trade and open borders will be fought from Ottawa, which is just 61 miles from the U.S. border crossing at Ogdensburg, New York. It will be incumbent upon the Trump administration to pay special attention to anti-U.S. political activities staged from Ottawa and Trump should think seriously about severing all signals intelligence and human intelligence links with Canadian intelligence agencies. These agencies, including the Communications Security Establishment Canada (CSEC) and the Canadian Security and Intelligence Service (CSIS) will soon pose a threat to U.S. national security. CSEC and CSIS will likely be tasked with spying on the Trump administration and be required to pass the intelligence to their German, French, Dutch, Belgian, and Japanese counterparts.
Freeland is already banned from visiting Russia, a travel ban that the Russian embassy in Ottawa says will continue. Perhaps that ban on Freeland should be expanded by the Trump administration to include the United States, with a sole exemption for traveling to and from United Nations headquarters in New York. Freeland is currently indistinguishable from the throngs of Hillary Clinton's desperate supporters who are planning to engage in every form of disruption and resistance with the financial support of Soros.