More Documentary Evidence From Singapore Criminal Proceedings To Bury Jho Low
Swiss bankers conspired and colluded with Jho Low to launder 1MDB's monies through several banks in Singapore. Excruciating evidence revealed in the PDF document below.
Bombshell Evidence from Joint Statement by Attorney-General's Chambers, Singapore (AGC), Commercial Affairs Department, Singapore Police Force (CAD) and Monetary Authority of Singapore (MAS).
No way can anyone in Malaysia say that there is no connection betqween Jho Low and 1MDB and or that  criminal investigations in foreign jurisdictions have not shown any criminality on the part of 1MDB and Jho Low. The cover-up by the regime has failed miserably.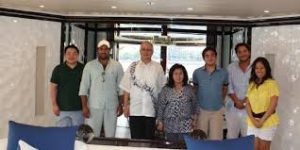 Jho Low, Prince Turki and Prime Minister najib and family on Yacht