A picture paints a thousand words…… !
Soros went to Davos to try to upstage President Trump. But, according to MSM Trump was received like a rock star, whereas Soros ended up as a total failure. Soros could not even stand to deliver his speech, but sat on a elevated sort of chair/stool. His performance was pathetic.  When the global financial elites, that once adored him and hang on to his every word, were paying attention to messages in their mobile phones, this is the begining of the end of this criminal oligarch and money-launderer.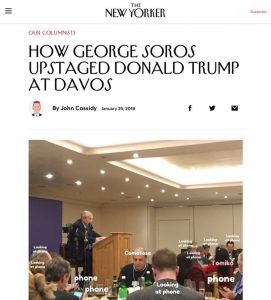 Notice no one was paying attention…. and yet the leftist New Yorker tried to portray Soros upstaged Trump!