"Assad Is Protector Of The Christians In The Middle East" – Archbishop Hanna
By Breakingnews.sy –  translated by Samer Hussein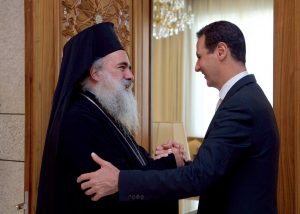 Atallah Hanna, the Archbishop of Sebastia from the Greek Orthodox Patriarchate of Jerusalem has visited Damascus today.
During his visit, he met with the Syrian President Bashar al-Assad, stressing that President Assad assured himself as an important figure of protecting the Christians, not just in Syria, but elsewhere in the Middle East too, noting that he does not consider Christians just as a "minority", but rather an important and integral part of the Syrian society.
He noted that during the past few years Christians have suffered a lot, but thanks to President Assad there is hope now, as was also seen in Maaloula where wounds are slowly healing. 
Bishop Hanna also said that he received negative reactions from both, the Palestinians and the Israelis because of his meeting with Assad and his supportive position on Syria, and as regards Israel, also for his role in the case of Al Aqsa mosque, saying that all this may cause his arrest or deportation, adding that none of this will deter him from his positions on Palestine and the Arab world issues, noting that conspirators against Syria are conspirators against Palestine as well. 
He then said that the majority of Palestinians in fact support his visit to Syria, and most of them are aware of the seriousness of the conspiracy against Damascus. 
Some, however, objected to his presence inside the Al Aqsa mosque because of his position on Syria. 
He pointed out one cannot talk about Palestine without talking about Muslims and Christians together, stressing that unity of the Palestinian people is the most important step to achieve freedom. 
Regarding Jerusalem, Hanna said Jerusalem's native inhabitants are treated badly, as if they were strangers to the city, noting there are constant attempts being made to falsify the history of Jerusalem.