New PLO Ambassador To US Has High Hopes For Trump Era
By Adam Rasgon – Jerusalem Post / Antiwar.com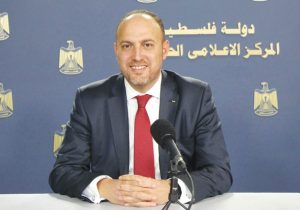 Husam Zomlot, who will officially start his role on April 1, sounded very optimistic regarding a potential revival of the peace process right before setting off for Washington.
Zomlot, who is flying from Jordan to Washington on Wednesday, spoke to a small group of journalists at a Ramallah hotel last week about the Trump administration and the possibility of reviving the peace process.
US President Donald Trump has demonstrated that he is interested in reviving the peace process between the Palestinians and Israelis, incoming PLO Ambassador to the United States Husam Zomlot told journalists ahead of his departure for Washington.
"All indicators are that President [Donald] Trump is serious and keen about restarting the peace process," said Zomlot, who will officially start his new role on April 1.
Palestinian Authority President Mahmoud Abbas and Trump spoke over the phone about renewing the process on March 10.
"The call from President Trump was very clear in terms of his commitment and intention to engage the two parties toward a final political settlement," Zomlot said.
Before the phone call, Abbas had limited contact with the Trump administration, while two top Israeli officials had already made official visits to Washington.
Less than a week after the phone call, Abbas and Jason Greenblatt, Trump's special representative for international negotiations, met in Ramallah, marking the second meeting between Abbas and a Trump administration official.
Zomlot said the meeting with Greenblatt reinforced his positive takeaway from the phone call.
"Mr. Greenblatt was very attentive and in a listening mood. He was able to see the political and human side of the story," Zomlot remarked.
During his trip to Israel and the Palestinian territories, Greenblatt also met with Israeli and Palestinian politicians, security leaders and youth.
Zomlot, who has served as a close adviser to Abbas over the past two years, also laid out his vision for renewing peace talks.
"The magic solution is the word borders… First and foremost, we must agree on the 1967 lines as the border of the two states. We have to agree on the final destination and then work backward," Zomlot stated, arguing that other approaches are destined for failure.
Palestinian and Israeli negotiators have attempted to reach an agreement on borders in previous talks, but failed to reach a compromise on the final line between Israel and a future Palestinian state. The last round of negotiations between Israel and the Palestinian leadership collapsed in May 2014.
Zomlot will manage contacts with the Trump administration, build ties with civil society and prepare for Abbas's first meeting with the US president in Washington in April.