McCain Chief Culprit In Trump "Dirty Dossier"
By Wayne Madsen – Wayne Madsen Special Report
Well-placed sources in the United Kingdom have told WMR that it was Arizona Republican Senator John McCain who was at the center of proffering and manipulating a 35-page opposition research intelligence report on Donald Trump and Russia. The dossier, which has been ascribed to former British Secret Intelligence Service officer Christopher Steele and his private intelligence firm Orbis Business Intelligence, Ltd., alleged that Trump observed Russian prostitutes engaged in a golden shower (urination) performance at the Ritz Carlton hotel in Moscow in 2013.
Trump was in Moscow for the Miss Universe pageant. The dossier alleges that the Ritz Carlton incident and other Trump dalliances with Russian prostitutes were captured on audio and video by hidden microphones and concealed cameras placed by the Russian Federal Security Bureau (FSB) in an effort by Russian President Vladimir Putin to blackmail Trump.
Several Western intelligence professionals have called the dossier a fake. Tony Brenton, a former British ambassador to Moscow, said of the dossier, "There are some things in it that look pretty shaky."
It is known that McCain features prominently in the trafficking of the dossier before it was made public last week.
On November 18, 2016, McCain discussed the dossier with Sir Andrew Wood, a former British ambassador to Moscow, while they both attended the Halifax International Security Forum in Nova Scotia. At about the same time the details of the dossier were being presented by the Director of National Intelligence James Clapper to President Obama in a joint intelligence report that had also been chopped by CIA director John Brennan and National Security Agency director Admiral Mike Rogers.
After discussing the contents of the dossier with Wood in Halifax, McCain dispatched his assistant, David J. Kramer, a former Assistant Secretary of State for Democracy, Human Rights, and Labor under George W. Bush, to a European airport in order to collect the dossier. Out of a scene from a 1960s spy flick, Kramer was told to look for a man holding The Financial Times newspaper. Upon making contact with the "newspaper man," Kramer was driven by the retired British MI-6 agent to his home where they discussed the contents of the dossier before the former agent gave Kramer a copy to take back to Washington. The trip lasted 24 hours.
Kramer is a known Russophobe and an arch neocon. He is also a former senior fellow with the neocon Project for a New American Century. Kramer was also executive director of Freedom House, another bastion for neocons. Kramer is also associated with the Kiev regime and has argued that sanctions on Russia be continued indefinitely.
On December 9, 2016, McCain met with FBI director James Comey without aides being present to hand Comey a copy of the dossier McCain's envoy Kramer picked up from an unknown former MI-6 agent, presumably in England. However, Comey, unbeknownst to McCain, was already in possession of the dossier. It had been handed by Steele to an FBI official in Rome in August 2016.
The involvement of the British government in the dirty dossier is not insignificant. Also present with McCain and Wood in Halifax were the former head of the British Security Service (MI-5) Baroness Pauline Neville Jones, Defense Secretary Michael Fallon, and British military chief Air Chief Marshal Sir Stuart Peach. The government of Prime Minister Theresa May also attempted to slap a DA Notice (Defense Advisory Notice) to prevent the publication of Christopher Steele's name in media reports on the dirty dossier. The government opted not to impose the notice after Steele's name was published by foreign media outlets.
Shortly before the disclosure of the dirty dossier by BuzzFeed.com, British Foreign Secretary Boris Johnson, who is also responsible for MI-6, flew to New York on January 8 to meet with Trump. Trump snubbed Johnson but had his son-in-law Jared Kushner and adviser Steve Bannon meet with Johnson. The talks were described as "positive but frank." The term "frank" is a diplomatic term for something other than friendly. WMR has been told that Johnson wanted to assuage Trump that the British government, in no way, was connected to the preparation of the dirty dossier. On January 6, a day before Johnson arrived in New York, Clapper, Comey, Brennan, and Rogers briefed Trump on the gist of the dirty dossier at Trump Tower.
Did NSA director Rogers discover a CIA and MI-6 "dirty dossier" conspiracy against president-elect Trump and fly to New York without authorization to warn him?
WMR has been informed that Steele was not the principal author of the dossier and that he has been designated the official "patsy" by MI-6 and its chief, Alex Younger, as well as the May government, because of the political fallout from the dossier that threatens to drive a wedge between London and the Trump administration. Steele, along with his wife and two children, have fled from his £1.5 million home in Wokingham, which is 39 miles west of London, to the south of France. The Steele family is reportedly being accommodated in an MI-6 safe house.
WMR has been told that Steele's name was associated with the dirty dossier after several other British and American elements had provided input, deletions, and additions to the report. Our British sources have revealed that Steele in the "fall guy" to protect others from incurring the wrath of the incoming Trump administration. The other dossier "authors" include political operatives working for the Washington, DC political opposition research firm Fusion GPS, which originally was contracted by the Jeb Bush campaign to dig up dirt on Trump in September 2015. Fusion GPS, in turn, contracted with Steele and Orbis to dig up dirt on Trump. After Trump won the Republican presidential nomination, the Hillary Clinton campaign hired Fusion GPS and, by default, Steele and Orbis.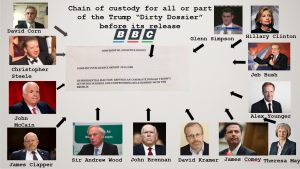 Steele also met with Mother Jones reporter and MSNBC contributor David Corn, a longtime apologist for the CIA, before the dirty dossier was published by BuzzFeed, a media outlet in which NBC Universal holds a significant investment. It is not known whether Corn received all or part of the Trump dossier but, at the very least, Steele did brief Corn on its contents, which were featured in a Corn article for Mother Jones on October 31, 2016.
There are a number of "chefs" involved in cooking up the dirty dossier. At a minimum, they include McCain; Fusion GPS, which was founded by former Wall Street Journal reporter Glenn Simpson; Comey and the FBI; Clapper and DNI; John Brennan and the CIA; Younger and MI-6; Ambassador Wood; Kramer and the McCain Institute; Steele's Orbis associates and informants; and members of the May government. In addition, the dossier was shared with the government-run British Broadcasting Corporation (BBC) in October 2016, obviously by official British sources. With such fingerprints on the dirty dossier, Steele, in fact, may be the least of all the contributors to the dubious report.
There is one important postscript to the story of the dirty dossier. On November 18, 2016, NSA director Rogers sneaked off from his headquarters at Fort Meade, Maryland to personally meet with Trump at his New York office. Significantly, Rogers had not cleared his meeting with Trump with the Obama White House, which had just been briefed by Clapper, Brennan, and Rogers on the contents of the dossier. It is known that of all the major U.S. intelligence agencies, the NSA held the dossier to a level of low confidence as far as its veracity was concerned. Defense Secretary Ashton Carter and Clapper felt inclined to leak to the press, after the Trump-Rogers meeting, that the two had recommended to Obama that Rogers be relieved of his post a few weeks earlier.
The dossier was known to the U.S. Intelligence Community in August 2016. NSA's global intercept capabilities, which are now known as massive, thanks to the revelations of former NSA contractor Edward Snowden, means that the identities of those coordinating the black ops against Trump were known to NSA and its allied partners, including its British counterpart, in almost real-time. Rogers would have had possession of the conspiracy against Trump before either Clapper or Brennan, or, for that matter, Obama. Something coaxed Rogers to break ranks with his intelligence community counterparts and independently meet with Trump in November. In this case, the NSA may have stepped in to preserve and protect the U.S. Constitution and the orderly transfer of executive power.