With Obama, Kerry, and Nuland gone, Europe moves against Soros
By Wayne Madsen – Wayne Madsen Special Reports

With the departure of Barack Obama, John Kerry, and State Department Hillary Clinton holdovers like Victoria Nuland from their seats of power in Washington, European leaders, especially those in eastern Europe are making their moves against international financier George Soros. His agenda long backed by the Democratic administration in Washington, Soros now faces unprecedented push back from, in particular, the leaders of Hungary and Macedonia.
Russia was the first to call out Soros for his interference in Russian politics. The Soros plan to destabilize Russia, dubbed the "Russia Project" by Soros's Open Society Institute and Foundation, foresaw the outbreak of Ukrainian-style "Maidan Square" uprisings in cities across Russia. In November 2015, the Russian Prosecutor-General's office announced the proscription of activities of the Open Society Institute and the Open Society Institute Assistance Foundation for endangering Russia's constitutional order and national security. These and other Soros organizations received funding from the Central Intelligence Agency-linked U.S. Agency for International Development (USAID) and National Endowment for Democracy (NED). There are indications that the Trump administration will severely slash the budgets of both entities, which would possibly bring an end to U.S. financing of attempts to disrupt governments throughout Europe and other parts of the world.
What has irked leaders like Hungarian Prime Minister Viktor Orban, a one-time recipient of Soros scholarship funds to attend Pembroke College at Oxford University in England, is Soros's application of lustration tactics against governments opposed to the Soros agenda. Soros gained his first foothold in eastern Europe after the collapse of Communism by pushing for the enactment of "lustration" laws to conduct witch hunts against any politician believed to have been linked to Communist secret police activities. By conducting lustration witch hunts, Soros was able to purge Eastern Europe's newly-democratic governments of "Communist sympathizers." The Soros operation was reminiscent of the "Red scare" activities of U.S. Senator Joseph McCarthy and American witch hunting politics of the late 1940s and 50s.
Orban and Gruevski
Soros and his organization dusted off their lustration craze of the early 1990s and tried to apply it against Orban and Macedonia's then-Prime Minister Nikola Gruevski. Both leaders were accused of being agents of Russia's President Vladimir Putin. The same tactic, of course, was used against President Donald Trump  during the 2016 election campaign. Soros, working with the CIA, attempted to tarnish Orban and Gruevski in the same manner as they are still attacking Trump and his campaign associates. Soros saw the benefit of re-purposing his lustration activity of the 1990s in the successful ouster in a coup d'état of Ukrainian President Viktor Yanukovych in 2014. Yanukovych was painted by Soros operatives as a stooge of Russia and Putin because he refused to take Ukraine into the European Union.
Orban now leads the anti-Soros groundswell in Europe. The optics of Orban becoming the first European Union leader to go after the Hungarian-born Soros and his destabilization operations has not been lost on other EU leaders, including those in Poland and the Czech Republic. Orban has accused Soros of masterminding the migrant invasion of Europe. In retaliation for these and other moves by Soros, Orban has warned that the various non-governmental organizations (NGOs) backed by Soros risk being expelled from Europe altogether.
One of Orban's FIDESZ (Civic Alliance) party officials, Szilard Nemeth, recently said that Trump's election in the United States has opened the door for NGOs serving Soros and other "foreign interests" being expelled from Hungary and other European countries. Orban's government has vowed to begin auditing foreign NGOs, including some 60 in Hungary run by Soros.
In a recent interview with the Budapest Times, Orban criticized Soros's goal of a borderless world, "There are some who envision a world without borders: this is exactly the concept which George Soros and his civil society organizations seek to popularize." Orban added, "I, however, am among those who do not want the world's civilizational structure to change, and in particular I would not like to see a change in the culture of this piece of land we call Hungary." In an interview with the Spanish network Intereconomia, Orban doubled down on his opinion of Soros's migration goals, "Europe is a continent based on Christian values . . . When a crowd rushes into your house without declaring its intention, it is by definition an invasion."
Orban has been joined in venting his anger about Soros by former Macedonian prime minister Gruevski, who was forced from office and an early election after Soros-inspired demonstrations in his country took place amid a massive influx of Muslim migrants from Greece.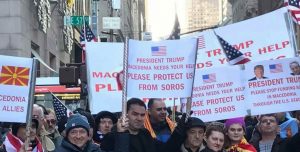 Recent Macedonian-American protest march in New York. Signs ask Trump to save Macedonia from Soros and U.S. State Department funds directed to Soros
In an interview with the Macedonian newspaper Republika, Gruevski, like Orban, ripped into Soros and his operations. Gruevski and his VMRO-DPMNE party eked out a narrow victory over the opposition Social Democrats (SDSM), who received support from Soros, the EU, and the U.S. embassy. Gruevski said of the election, "If it were not for George Soros behind it with all the millions he pours in Macedonia, the entire network of NGOs, media, politicians, inside and out, that he pays, influence on the most powerful countries in the world, and decisive influence when it comes to smaller countries like ours, it would not be that difficult, and the economy would be stronger, we would have had more new jobs."
Commenting on Soros's global trouble making, Gruevski said, "His foundation, judging by its financial and personal potential, is the strongest politically oriented foundation in the world. He has decided to use his wealth toward ideological goals – the creation of these so-called open societies, and for financial gain, where he speculates on pre-determined political outcomes in certain countries which brings him profits in the stock exchanges. This influence extends to entire institutions, ministries, Governments infected with his ideology and points of view. It makes no sense to even talk about SDSM or [SDSM leader Zoran] Zaev here, they are small fry in this story."
Gruevski said of Soros NGOs in Macedonia, "In Macedonia they have a monopoly in the NGO sector because 95 percent of the NGOs are funded by Soros or governments influenced by him, and they jointly direct the money and arrange activities. If they need a so-called colorful revolution, then they do it through NGOs with money." Referring to Soros's operations in other countries, including the United States, the former Macedonian prime minister said, "He is not doing that just in Macedonia, but in the Balkans, across Eastern Europe, and now, most recently, in the United States. Secondly, from what I've read about him, in some countries he does it for material and financial reasons, to earn a lot of money, while in others for ideological reasons."
Gruevski also accused the U.S. State Department of imposing rules on countries like Macedonia at the behest of Soros. Gruevski certainly has high hopes that the Trump administration will curtail Soros's activities in his and other countries.
A spiteful tale of no American visa for Melania Trump's shoe maker
Trump has likely heard an earful about State Department meddling in the affairs of her former native country Yugoslavia from his wife Melania. In one last slap at the incoming Trump administration, the Soros operatives in the State Department refused visas for Marinko Umičević, a Bosnian Serb shoe maker who sent two pairs of shoes for the now-First Lady, and Milorad Dodik, the president of the Srpska Republic, a component of the Federation of Bosnia-Herzegovina that owes greater allegiance to Serbia than to the Muslim-led government in Sarajevo. Like Melania Trump, Umičević was born and grew up in Slovenia.
Mrs. Trump replied to Umičević for the gift of shoes: "What a beautiful surprise! Thank you for the beautiful gift and the message that you sent me. This is a very beautiful gesture and I appreciate it a lot. I wish you a lot of success in the future." Mrs. Trump also extended a personal invitation to the shoe maker to attend her husband's inauguration in Washington, one that the Kerry State Department rejected. The denial of a visa for Dodik was principally the work of two Sorosites within the State Department, Hoyt Brian Yee, the U.S. deputy assistant secretary for European and Eurasian affairs who answered to Victoria Nuland, the department's neocon and Zionist diplomatic headmistress over Europe and Eurasia, and the U.S. ambassador to Sarajevo, Maureen Cormack.
The pettiness of the Soros-influenced State Department under Barack Obama in denying visas for Umičević, the technical director of Banja Luka's Bema shoe factory, and President Dodik to attend the Trump inauguration, while permitting Dodik's wife Snjezana Dodik, and Srpska Republic Prime Minister Zeljka Cvijanovic to attend, is an indication of Soros's influence in the Obama administration. Soros certainly appears ready to initiate a Balkans test for Trump and his Slovenian-born wife. A Balkans crisis will attempt to force Trump to choose between Russia, Serbia, and his wife's sympathies on one hand and the interests of NATO, the EU, and Soros on the other.
A "Less" peaceful Balkans awaits Trump
Timothy Less is not a household name in the United States, but it is among diplomatic and government circles in the Balkans. Less, a former British diplomat who possesses a curriculum vitae strongly suggesting past and possible current links to Britain's Secret Intelligence Service (MI6), has been an advocate for redrawn borders in the Balkans. Less previously served as the top British diplomat in Banja Luka, the capital of the Serbian Republic of Bosnia-Herzegovina. Less is currently the director of the political risk consultancy Nova Europa, which appears to have more than a passing connection to British intelligence.
Less has promoted the idea of a Greater Serbia, Greater Albania, and Greater Croatia, with the chief victims being Macedonia (which would yield its territory to a Greater Albania and Serbia), Bosnia-Herzegovina (which would lose its Croatian and Serbian components to Greater Croatia and Greater Serbia, respectively), Kosovo (which would be absorbed by Greater Albania, with its Serbian cantons going to Greater Serbia), and Montenegro (which would be carved up between Greater Serbia and Greater Albania). Less comes from a school of British diplomacy that has historically carved up countries and territories, this ensuring future bloody wars and inter-ethnic and inter-religious conflicts.
Soros's future in Europe is bleak
Leaders in Europe are waking up to the interference in their affairs by Soros. Former German Christian Democratic Union (CDU) Bundestag member Willy Wimmer, a former German defense official and envoy to war-torn Yugoslavia, understands the objectives of people like Soros in Europe. Wimmer recently said, "There is no hostility [between Russia and Europe], the hostility is organized in a very artificial way and it is the same way of organizing hostilities as we see nowadays against Trump." Wimmer, like Orban and Gruevski, understands the manipulative nature of Soros's politics and money.
In Poland, a Member of Parliament for the ruling right-wing Law and Justice Party (PiS), Krystyna Pawłowicz, had demanded that Soros be stripped of Poland's highest honor for foreigners, the Commandery with Star of the Order of Merit of the Republic of Poland. Pawłowicz considers Soros's operations in Poland to be illegal. She also believes that Soros's organizations are "financing the anti-democratic and anti-Polish element with a view to fight Polish sovereignty and indigenous Christian culture." Like Orban in Hungary, Pawłowicz wants Poland to pass a law that would make Soros's activities in Poland illegal. She has called Soros a "pest."
Czech President Milos Zeman has also gone after Soros. In a 2016 interview, Zeman said, Some of his [Soros's] activities are at least suspicious and they strikingly remind of interferences in [countries'] internal affairs. The organizing of what is known as color revolutions in individual countries is an interesting hobby, but it brings more harm than benefit to the countries concerned." Zeman also accused Soros of preparing a color revolution in the Czech Republic: "Look what has become of Ukraine following Maidan, and such Maidans were or still are being prepared in many countries, maybe also in the Czech Republic."
Slovak Prime Minister Robert Fico has also accused Soros of interfering in Slovak elections. Fico said that in the March 2016 elections, he and his party had to face "the civil society supported with foreign money and politically highly involved opposition media," all of which was coordinated by Soros. Fico has called Soros-financed journalists in Slovakia, "dirty, anti-Slovak prostitutes."
Latvia is another country where Soros has been active. But that may not be the case in the future. Aivars Lembergs, the mayor of Ventspils and a leader of the Union of Greens and Peasants, wants Soros and his NGOs banned from Latvia. Lembergs argues that two Soros publications in Latvia — Delna and Providus — have propagandized in favor of Latvia receiving Muslim migrants. Lembergs sees the migrants and Soros's support for them as endangering Latvian state security. The mayor believes that "George Soros must be outlawed in Latvia. He must be banned from entering the country."
In neighboring Lithuania, the Labor Party has also questioned Soros's activities in the country. The party and its parliamentary allies have asked Lithuania's security services to investigate the "financial schemes and networks" of Soros because of the threat they pose to national security. The Lithuanian parties claim that Soros groups specialize at "not consolidating, but dividing, society."
From the Alpine retreat of Davos, Switzerland and its annual World Economic Forum, Soros said that Trump is a "con man" and a "would-be dictator." Soros money has been pouring into anti-Trump organizations, including MoveOn.org and Black Lives Matter. These and other Soros groups have and will continue to organize anti-protests around the United States and the world. Soros has also targeted British Prime Minister Theresa May and is trying to derail the Brexit referendum's triggering of the United Kingdom's withdrawal from the EU. Soros predicted that May will soon be out of office and his minions in Britain are working towards that end.
Soros, who is turning more and more of his operations over to his son Alexander Soros, has a problem. He has not only alienated the President of Russia and the Prime Minister of the United Kingdom but now the President of the United States. Soros is also enemy number one among the leaders of China. With such an array of enemies, it is doubtful Soros will have any more political successes like Ukraine. Mr. Soros's days as a global grand schemer appear numbered.