Sharia Gold Standard Is "Revolutionary" – Mobius
By Mark Byrne – Goldcore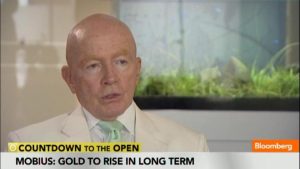 One of the world's leading investors, Mark Mobius told a gold conference in Dubai that the new 'Sharia Gold Standard' is both "innovative and revolutionary" and importantly will bring "transparency" to the physical gold market which suffers from a lack of trust.
The executive chairman of Templeton Emerging Markets Group was speaking at the 'Gold in Islamic Finance' conference organised by the Accounting and Auditing Organisation for Islamic Financial Institutions (AAOIFI), the World Gold Council and Amanie Advisors and held in Dubai last Thursday.
"This standard is a God send. We have a global standard for gold. This is innovative and revolutionary" said Mark Mobius.
Dr Mobius drew the audience's attention to the growth potential in both the emerging markets and Islamic World of 1.6 billion people and some 100 million investors.
"This Sharia gold standard is a Godsend for those Islamic households that would like to invest in gold funds"
He drew attention to the economic growth of both the UAE and China and the growing middle classes and their increasing sophistication in terms of embracing technology in terms of smartphone and internet penetration.
ETFs represent 30% of all mutual funds and this is growing rapidly he said, but these ETFs pose some risk and they are 'following the crowd.'
He is monitoring the growth in gold ETF inflows, plus the 'stealth buying' being done by central banks such as Russia and China.
Mobius emphasised the importance of the fact that the new Sharia gold standard is all about the ownership of the underlying asset – allocated physical gold coins and or bars. He noted that the payment or exchange of cash must happen at the exchange of ownership.
He emphasised there will be a credibility problem even for gold-backed ETFs. He stated that the "issue of physical gold is a big one" and that just storing gold at the NY Fed Reserve in exchange for a receipt is not prudent.
Large bullion banks act as custodians for the gold held in gold ETFs and the custodians are generally subject to supervision by the Federal Reserve Bank of New York, the Federal Deposit Insurance Corporation (FDIC) and the Bank of England.
"Just trusting the NY Fed has your gold is no longer going to be enough… Global investors are rightly demanding more transparency around physical gold custody due to a lack of trust…" 
The new Sharia Gold Standard is one of the reasons that Mobius is bullish on gold in 2017 and in the long term. He believes that gold will advance by 15 per cent  before the end of 2017 as the Federal Reserve will go slow on increasing interest rates leading to increased gold bullion demand.